Cemetery Decor & Restoration
Perpetual Care and Beautification of Our Cemeteries
When you purchase property with Canton Cemetery Association, you become a member of our association and invest in the perpetual care of the cemeteries. As a non-profit organization, the proceeds we make are poured right back into the maintenance and improvement of North Lawn Cemetery and West Lawn Cemetery.
We work hard to maintain specific standards of maintenance, beauty and uniformity within the cemeteries out of respect for our families. Any floral or other decor you wish to place on a grave must adhere to cemetery regulations, which vary between the cemeteries, sections, and seasons.
The best way to learn the guidelines is to speak with one of our knowledgeable, caring family advisors.
Canton Cemetery Association Perpetual Care Services
Your gravesite is guaranteed to receive perpetual care for the reasonable maintenance of the grounds—forever. This includes:
Cutting the grass upon grave space at reasonable intervals
Raking and maintaining the grave spaces
Pruning the shrubs and trees planted by the Association
Generally maintaining and preserving the cemeteries and the grounds, walks, roadways, boundaries, buildings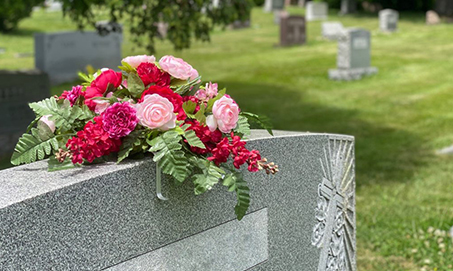 It's also important to understand what perpetual care does NOT cover. The Canton Cemetery Association is not responsible for maintaining, repairing or replacing any memorials, planting flowers or ornamental plants on specific burial spaces, doing any special or unusual work or maintenance in the cemetery or in a mausoleum or columbarium, or reconstructing any marble, granite, bronze or concrete work. We are also not liable to repair damage caused by the elements, acts of God, thieves, vandals, malicious mischief makers, or other such threats.
Any improvements or restoration you wish to make to a grave must be approved by the Canton Cemetery Association.
Advantages of Pre-Planning Burial Arrangements
Dealing with burial and ongoing honor and remembrance is easy when you plan ahead and your loved ones are familiar with your arrangements. Schedule a consultation with a family advisor today to learn about the options with Canton Cemetery Association and initiate your plans.
No-Obligation Consultation