Veterans Burial Garden at North Lawn Cemetery
Honoring U.S. Veterans and Their Families
At the heart of Veterans Garden stands a beautiful monument honoring those who've served in the United States Army, Navy, Air Force and Marines. Burial spaces for honorably discharged veterans surround the monument. Burial spaces are provided free to veterans, with adjacent spaces available for spouses.
Bronze or granite flat markers are available at no charge from the government. Or, if you prefer, you may opt to purchase an upright monument.
We have been told over and over again that North Lawn Cemetery is the most beautiful cemetery in the Stark County area. North Lawn Cemetery helps to provide the true peace of mind and security that families need to feel when making their cemetery arrangements. The Veterans Garden at North Lawn allows for a local, dedicated memorial for your veteran, keeping loved ones closer.
Veterans Burial Services
Canton Cemetery Association provides all the basics required for a veterans burial within North Lawn Cemetery and West Lawn Cemetery. These include:
One free burial space
One custom-built burial vault
Installation
Opening and closing
Upright monument purchases available
We offer individual burial spaces as well as plots for the veteran and spouse.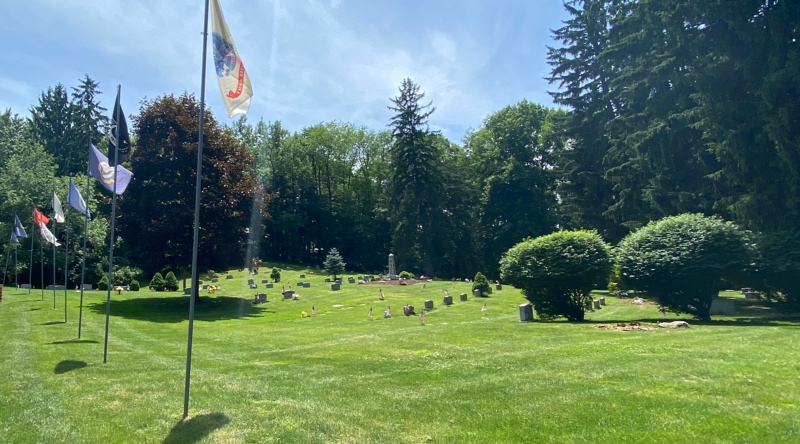 Advantages of Pre-Planning for Veterans Burial Arrangements
Planning burial arrangements ahead saves your loved ones from needing to make difficult decisions when the unthinkable happens. Visit North Lawn Cemetery and speak with our family advisors to secure a gravesite location of your choosing in the Veterans Garden. We offer deep discounts and affordable payment plans for those who pre-arrange.
No-Obligation Consultation
Mausoleums
Above-ground entombment in one of the North Lawn Cemetery mausoleums offers a peaceful, sheltered, secure environment for loved ones to visit and remember.
Green Burial
Choose certified green burial in North Lawn Cemetery's Emerald Meadows section for a natural approach that protects the environment and the people who live and work nearby.