Green or Natural Burial in Canton, OH
Eco-friendly Burial Allows Body To Be Naturally Recycled
Choose green burial for a natural, environmentally friendly approach that protects the earth as well as the people who regularly work in the cemetery. Green burial reduces the carbon footprint significantly compared to traditional burial or cremation and also does away with the embalming chemicals and concrete required. For some, the idea of a green burial simply speaks to the soul.
Emerald Meadows is the green burial section of North Lawn Cemetery. It is certified by the Green Burial Council. Emerald Meadows is one of just two green burial cemeteries in Stark County and eight in Ohio.
Burials that occur in this section are not to be embalmed unless it is with ENIGMA and must be in a biodegradable casket (wicker), urn or shroud. Cremations are accepted in this section as well. This all-natural burial has been met with enthusiasm and we welcome the opportunity to share this innovative way for burial. We encourage you to contact us for more information!
Certified Green Burial at Emerald Meadows
We have been awarded certification as a green burial ground through the Green Burial Council, indicating we meet their standards for sustainable practices and land stewardship. We are considered a hybrid burial ground since we offer both traditional ground and natural burials. The standards to which we adhere include:
Accept for burial only those that have not been embalmed or embalmed only with GBC-approved, nontoxic chemicals
Prohibit the use of a vault, vault lid, concrete box, slab, or partitioned liner in the burial plot
All burial containers, shrouds and other associated products made only of natural, biodegradable materials
Establish an endowment fund to ensure the long-term maintenance of the site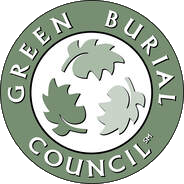 Advantages of Pre-Planning for Green Burial
Making cemetery arrangements long before you actually need them ensures you get the burial you desire at a price you can afford. Our family advisors are available to walk you through all the options at North Lawn and West Lawn Cemeteries, including certified green burial and it's benefits. If you choose to pre-arrange, you'll have access to discounts and small monthly payments plans to fit your budget.
Contact us to discuss the benefits, costs and any questions you may have.
No-Obligation Consultation
Cremation Niches
North Lawn Cemetery offers many options for honoring a loved one who's been cremated, including entombment within the mausoleum chapel, in free-standing columbaria or in a traditional grave.
Above-Ground Burial
Above-ground entombment in one of the North Lawn Cemetery mausoleums offers a peaceful, sheltered, secure environment for loved ones to visit and remember.